Hello everyone and welcome back to yet another post. This time, we thought of doing something for all you nature and architecture lovers out there. We curated all the beautiful homes designed to be in harmony with nature. 
As lives are getting busier, and cities are losing their touch with nature, it is getting harder to be surrounded by any greenery at all. And to build houses, a lot of lands are usually cleared up of trees and nature.
However, we have found the perfect homes that are built around and in perfect harmony with nature. These houses are really some pieces of art. We also believe that if you are building a house, you'd find a lot of inspiration in here to build a house that compliments mother nature.
On the other hand, most of us, living in urban areas in high rise buildings, don't have access to any garden or backyards at all. Don't worry. There is much inspiration for you guys in here too, to revamp your home to be more in touch with nature. So let's begin!
This brilliant terrace garden is from the house of an Australian florist famously known as Mr Cook. He remodelled his house and I absolutely love house his terrace garden looks less like a terrace and more like a real garden. What I love the most about this, is that the terrace feels like a part of the living room, which I believe is so important while trying to incorporate nature into your home. It should feel like a part of the house and not something that's "added to it".
This beautiful house in Malaysia with an infinity pool has an incredible view. It's all wood which makes it look like a part of the scenery and not in the way of it.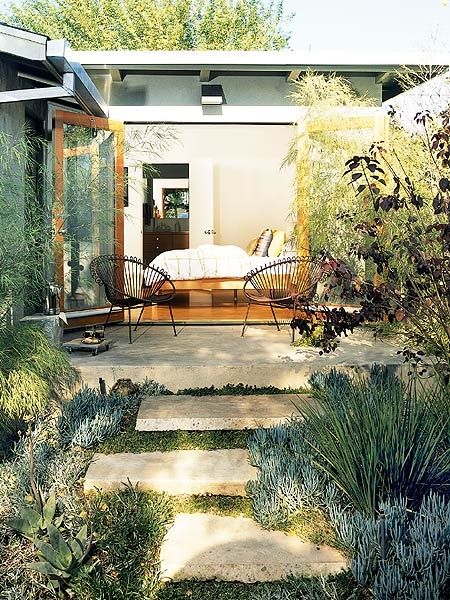 What a beautiful balcony, leading directly into the garden from the bedroom. This is definitely somewhere I'd love to wake up at.
So speaking of bringing nature inside of your home, how about this one that has literally done it. This amazing home has a pond that surrounds it and it has real fishes in it. This is truly brilliant!
If you are lucky enough to have a backyard or a garden that your home leads into, why not make full use of it? I think the best way to be in contact with nature is to shower in it. Yes! How about having your own little shower area in your backyard that's surrounded by plants, trees and has wooden floors. I bet it'll feel like showering in a rainforest.
This resort in Bali shows us how it is done. How absolutely stunning is this outdoor shower!
Another amazing idea of how your living room can be a part of your garden.
We all have thought of having a kitchen garden. How about you incorporate your Kitchen inside the garden? This beautiful kitchen surely looks like a part of nature.
This house in Mumbai, India, has built a pond which the house is surrounded by. Isn't it so incredible and refreshing?
Hope you guys enjoyed this post! If you liked it, check out How To Turn Your Home Into A Tropical Paradise