In this post we talk about what the style is all about and how it originated. Then we'll look at some Mid century modern living room ideas and how you can achieve the look for your home. 
What is Mid Century Modern Style?
Mid Century Modern is an American design movement that developed and gained popularity roughly in between the late 1930s and 1960s. When Bauhaus designers and architects migrated to America post World War-II, they started this movement.
The design style caught up quickly due to its simplicity and functionality.
Also Read: How To Create A Scandinavian + Bohemian Living Room
What is the style known for?
The Mid century modern style is best known for its simplicity and functionality. Designers used post-war materials to build the furniture when the décor style was first developed. This came to be as the Mid Century Modern furniture.
Although, now the furniture has pretty high-end versions, the initial inspirations can still be seen in the design.
It is recognized and loved to date for its minimal, clean lines, organic curves and use of different materials.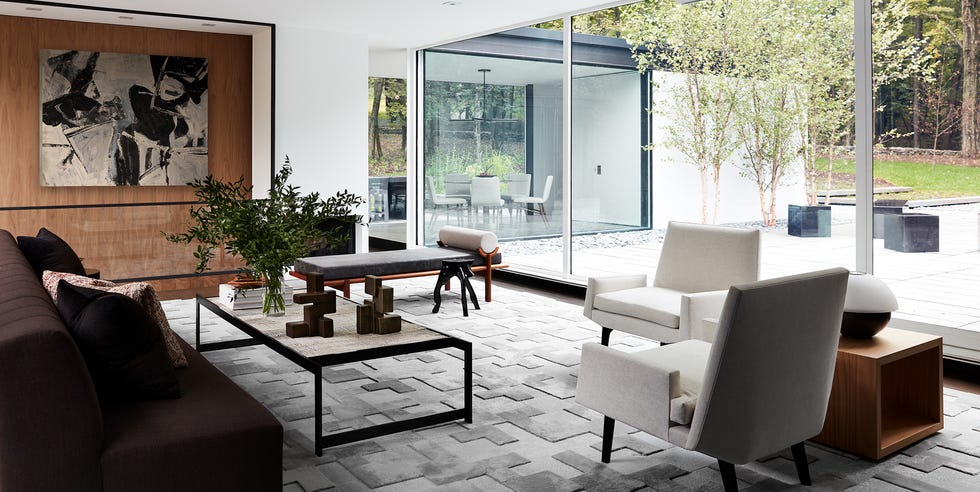 How to style a Mid Century Modern Living Room?
Also Read: How To Create A Wabi Sabi Home
Form follows function
Mid century modern style is recognized for its functionality and utility. Incorporate functional furniture that can ideally serve more than one purpose.
Mid century style was originally developed for smaller, compact spaces. Which is why functionality and utility is what drove the aesthetic.
Also Read: How To Create A Scandinavian-Style Kids Room
Organic Textures And Pops of Bright Hues
The color palette of an Mid century modern living room should be a mix of natural tones and pops of bright colors.
Organic or natural materials are typically used to achieve these neutral tones. Such as wooden pieces, metallic and brass embellishments, marble, etc.
The style is pretty flexible in terms of its color schemes. Usually, decorators tend to use pops of colors here and there. However, a minimal, neutral color scheme can also work just fine.
Also Read: How To Make Spaces Pop With Colors
Mix 'n' Match Furniture
The true essence of a mid century design lies in the use of different furniture around the room, strategically put together. You can use a mix of retro or vintage furniture with some modern pieces.
On a budget, this design style works the best because it allows you to reuse or repurpose old furniture or thrift finds.
Also Read: 56 Ravishing Bohemian Bedroom Inspirations
Clean Lines
Mid Century Modern is known for its minimal and modern aesthetic.
You can incorporate straight, streamlined furniture, plain walls or big rectangular frames on the walls of your living room. You can use the classic chairs with sleek wooden legs.
Statement Pieces
This décor style makes use of clever, bold accessories. You can style the room with a statement piece that catches the eye and balances the rest of the minimal design by adding contrast.
You can add a huge piece of art, sculpture or a fancy lamp. The possibilities with this style is endless.
Geometrical Patterns
Back when this trend began, geometrical patterns were quite popular in home décor. You can use these patterns by adding wallpapers with unique geometrical patterns, or a big rug that balances with the minimalistic furniture design.
Plants
Plants are also an important aspect of this décor style. However, hanging plants might not really go with the theme. So, try to use more potted plants, and ideally of different sizes.
Also Read: Air Purifying Plants: 10 Houseplants That Purify Air
More Inspirations For Mid Century Modern Living Room
As said earlier, there are endless opportunities with this style of décor. Here are some more ideas and inspirations to redo your living room with a retro and mid century modern look.